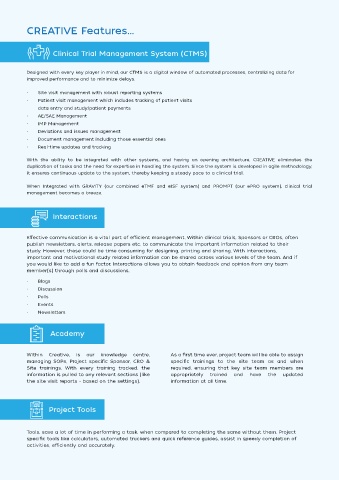 CREATIVE Features...




                    Clinical Trial Management System (CTMS)


          Designed with every key player in mind, our CTMS is a digital window of automated processes, centralizing data for
          improved performance and to minimize delays.

          •   Site visit management with robust reporting systems
          •   Patient visit management which includes tracking of patient visits
              data entry and study/patient payments
          •   AE/SAE Management
          •   IMP Management
          •   Deviations and issues management
          •   Document management including those essential ones
          •   Real-time updates and tracking
          With the ability to be integrated with other systems, and having an opening architecture, CREATIVE eliminates the
          duplication of tasks and the need for expertise in handling the system. Since the system is developed in agile methodology,
          it ensures continuous update to the system, thereby keeping a steady pace to a clinical trial.

          When  Integrated  with  GRAVITY  (our  combined  eTMF  and  eISF  system)  and  PROMPT  (our  ePRO  system),  clinical  trial
          management becomes a breeze.


                    Interactions



          Effective communication is a vital part of efficient management. Within clinical trials, Sponsors or CROs, often
          publish newsletters, alerts, release papers etc. to communicate the important information related to their
          study. However, these could be time consuming for designing, printing and sharing. With Interactions,
          important and motivational study related information can be shared across various levels of the team. And if
          you would like to add a fun factor, Interactions allows you to obtain feedback and opinion from any team
          member(s) through polls and discussions.
          •   Blogs
          •   Discussion
          •   Polls
          •   Events
          •   Newsletters


                   Academy



          Within  Creative, is  our  knowledge  centre,      As a first time ever, project team will be able to assign
          managing SOPs, Project specific Sponsor, CRO &      specific  trainings  to  the  site  team  as  and  when
          Site trainings.  With  every training tracked, the   required,  ensuring  that  key  site  team  members  are
          information is pulled to any relevant sections (like   appropriately  trained  and  have  the  updated
          the site visit reports – based on the settings).   information at all time.




                  Project Tools



          Tools, save a lot of time in performing a task, when compared to completing the same without them. Project
          specific tools like calculators, automated trackers and quick reference guides, assist in speedy completion of
          activities, efficiently and accurately.