Page 3 - Assay - Brochure
P. 3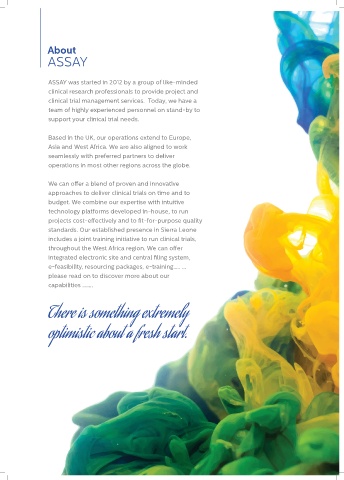 About
                  ASSAY




                   ASSAY was started in 2012 by a group of like-minded
                   clinical research professionals to provide project and
                   clinical trial management services.  Today, we have a
                   team of highly experienced personnel on stand-by to
                   support your clinical trial needs.


                   Based in the UK, our operations extend to Europe,
                   Asia and West Africa. We are also aligned to work

                   seamlessly with preferred partners to deliver
                   operations in most other regions across the globe.


                   We can offer a blend of proven and innovative
                   approaches to deliver clinical trials on time and to
                   budget. We combine our expertise with intuitive
                   technology platforms developed in-house, to run
                   projects cost-effectively and to fit-for-purpose quality
                   standards. Our established presence in Sierra Leone
                   includes a joint training initiative to run clinical trials,

                   throughout the West Africa region. We can offer
                   integrated electronic site and central filing system,
                   e-feasibility, resourcing packages, e-training….. ...
                   please read on to discover more about our
                   capabilities ……..




                   There is something extremely


                   optimistic about a fresh start.