Page 6 - Assay - Brochure
P. 6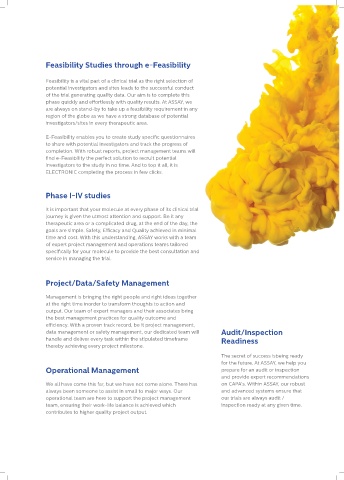 Feasibility Studies through e-Feasibility


                  Feasibility is a vital part of a clinical trial as the right selection of
                  potential investigators and sites leads to the successful conduct
                  of the trial generating quality data. Our aim is to complete this
                  phase quickly and effortlessly with quality results. At ASSAY, we
                  are always on stand-by to take up a feasibility requirement in any
                  region of the globe as we have a strong database of potential
                  investigators/sites in every therapeutic area.

                  E-Feasibility enables you to create study specific questionnaires
                  to share with potential investigators and track the progress of
                  completion. With robust reports, project management teams will
                  find e-Feasibility the perfect solution to recruit potential
                  investigators to the study in no time. And to top it all, it is
                  ELECTRONIC completing the process in few clicks.



                  Phase I-IV studies


                  It is important that your molecule at every phase of its clinical trial
                  journey is given the utmost attention and support. Be it any
                  therapeutic area or a complicated drug, at the end of the day, the
                  goals are simple. Safety, Efficacy and Quality achieved in minimal
                  time and cost. With this understanding, ASSAY works with a team
                  of expert project management and operations teams tailored
                  specifically for your molecule to provide the best consultation and
                  service in managing the trial.



                  Project/Data/Safety Management


                  Management is bringing the right people and right ideas together
                  at the right time inorder to transform thoughts to action and
                  output. Our team of expert managers and their associates bring
                  the best management practices for quality outcome and
                  efficiency. With a proven track record, be it project management,
                  data management or safety management, our dedicated team will   Audit/Inspection
                  handle and deliver every task within the stipulated timeframe   Readiness
                  thereby achieving every project milestone.
                                                                                 The secret of success isbeing ready
                                                                                 for the future. At ASSAY, we help you
                  Operational Management                                         prepare for an audit or inspection
                                                                                 and provide expert recommendations
                  We all have come this far, but we have not come alone. There has   on CAPA's. Within ASSAY, our robust
                  always been someone to assist in small to major ways. Our      and advanced systems ensure that
                  operational team are here to support the project management    our trials are always audit /
                  team, ensuring their work-life balance is achieved which       inspection ready at any given time.
                  contributes to higher quality project output.